How to Choose The Best Yoga Wheel Roller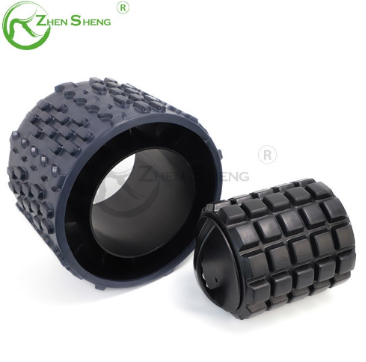 When it comes to yoga wheels roller, quality can vary greatly even though they may all look similar. Opting for a well-made yoga wheel is important not only for durability, but also for safety. A low-quality wheel that breaks or shifts during a pose can lead to injuries that can be detrimental to your health. Therefore, it is important to consider certain factors before purchasing a yoga wheel. These factors include the grippiness of the wheel, the comfort of its foam lining, and its odor-preventing, anti-microbial, and sweat-resistant properties. Further more, the width of the wheel should be chosen based on personal preference, with wider wheels offering greater stability and narrower wheels providing a more concentrated massage experience.
Material
When choosing a yoga wheels roller, the material it's made of is crucial. A grippy surface is essential to prevent slipping and ensure stability while practicing different poses. The foam or lining should also be taken into consideration, as it should be comfortable enough to roll over your body but not too soft to offer too much cushion. Additionally, having materials that are odor-preventing, anti-microbial, and sweat-resistant can enhance the overall experience, allowing you to freely take a hot yoga class without leaving a lasting smell on the wheel or sliding off it.
Weight Capacity
It is crucial to ensure that your yoga wheel can withstand the pressure of your poses without collapsing, which could cause serious injuries. Therefore, it is recommended to choose a wheel that has a weight capacity of at least 200 pounds over your body weight to ensure safety during practice. By choosing a wheel that can support your weight and provide stability, you can focus on your yoga practice without worrying about the equipment's safety.
Width
Some people prefer a wide wheel that emphasizes stability, whereas others are looking for something a bit narrower to provide a more concentrated massage experience. Which is right for you depends on your intentions.
What Are the Best Yoga Wheel rollers?
We picked the best yoga wheel rollers to add to your practice today.
1. ZhenSheng New Design Multi-function Massage Yoga Wheel Roller
2 in 1 multi-functional yoga wheel roller can be as yoga wheel, also be foam roller.
Extremely strong and durable, it can hold up to 500kg.
Suitable for chest hunchback, yoga beginners, middle and advanced practitioners.
Mini foam roller is empty, can storage some small accessories such as massage ball,etc.
2. ZhenSheng Multi-function EVA massage Yoga Wheel
For using on a wide variety of yoga postures.
Imitation fingertip design, feel comfortable.
High resilience, use the counterforce on the pressure to relax the deep muscles.
Professional Yoga Wheel Roller Supplier
Shanghai Zhensheng Sports Goods Co.,Ltd. focuses on the provision of international trade development integration solutions, providing one-stop sourcing service to reduce your purchasing costs.
And we can also offer customized products, packaging, transportation and after-sales service. If the massage balance pad has any after-sales problems in the use of consumers, it can be communicated and solved with professional sales.
If you want to know more information about yoga wheel roller and other applications, welcome to contact us, please visit our website at https://www.shzhensheng.com/. We will be happy to help you out!