The size of professional soccer ball
When looking for a new soccer ball, you may have noticed different types of size and weight to choose. Picking the right size ball for your age is helpful to promote passion and avoid picking up bad habits when handling a soccer ball on the field. Different ages and using situations decide to prepare different types of soccer.
Generally, soccer ball sizes include one, three, four and five. In this passage, you are going to know about the classification of professional soccer ball and how to find a best one that suit for you.
Size 1 soccer balls
They're also called mini soccer balls or skills balls which are used to enhance footwork skill or just for fun.
Although it is the smallist size soccer, size 1 is a versatile ball meant for all ages. You can use it to work on footwork, ball control, tricks, and so on. What's more, if you have a young athlete under the age of 4, size 1 is a great first soccer ball for toddlers to get familiar with the beautiful game.
Size 3 soccer balls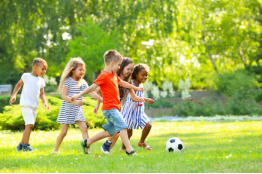 They are usually suit for children under the age of 8.
It's the smallest size used for junior games, so if your kid is just getting the hang of team play, this is best for them.
These balls are generally 23-24 inches in circumference and weigh between 11-12 ounces.
Size 4 soccer balls
They are suit for children between the ages of 8-12.
Size 4 balls weigh between 12-13 ounces and have a circumference of 25-26 inches.
Because they are typically made with less bounce since the game is played on a hard surface indoors, and sometimes have felt or suede casings to help stabilize the ball on the slippery playing floor.They are always the best choice for playing futsal balls.
Size 5 soccer balls
The size 5 ball usually weighs between 14-16 ounces with a circumference of 27-28 inches.
They are the standard soccer ball size for ages 12 and older all the way up to professionals.
Besides, size 5 soccer balls have different types to choose which are matched with various situations.
Turf soccer balls are made to withstand more wear and tear from artificial fields that tend to have a rougher playing surface.
Indoor soccer balls are made to have less rebound to accommodate the harder surfaces and turf that covers the playing ground and walls of an indoor soccer field.
Beach soccer balls are lighter than an official grass soccer ball, and typically softer to provide more comfort to bare feet.
ZhenSheng is a leading manufacturer and exporter of quality sports balls including hig-performance football balls, futsal, basketball, volleyball, American football and related accessories. We have established ourselves as one of the most respected suppliers and exporters of sports balls by combing work ethics and integrity with innovative resources and processes. We strive to provide the best customer service as well as quality products and fast shipping.
For more information about professional soccor ball supplier information and other applications, welcome to contact us, please visit our website at https://www.shzhensheng.com/. We will be happy to help you out!